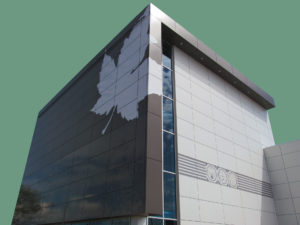 LUXESIGN ANTIGRAFFITO
Removing paint murals has become economical and easy to do: all you need is a cloth!
What is a mural? A mural is an extremely large work of art, most often painting applied to the surface of a wall. You can find anything from a modern design, to scribbling, love poems and insults. Murals you will find in all major cities; along freeways, on the facade of a downtown building, publicity signs and in tunnels. At times, it becomes very difficult to distinguish the actual base colour on the wall being that it is completely covered with paint.
Some believe that it is in fact a work of art, brings life and colour to the grey aspect of the city, others find it to be frustrating, dirty, and most of all expensive.
The removal of murals is indeed a very expensive process for any administrative and private owner of a building.
That is why Luxe coat has come up with a solution to these problems by introducing a new product: Luxe sign anti-graffiti.
It is a product painted with liquid in a continuous line on a laminated aluminium alloy.
It is a product with additives and particular components that confer the surface by obtaining a characteristic that allows it to be cleaned with solvents and paint removers that are water base without attacking and leaving the original state of the surface in terms of gloss, and colour.
This has finally allowed the removal of murals to be easy and most of all, economical: all you need is a cloth! All you need is Luxe sign anti-graffiti!
With this composition you can obtain all the superficial/colour aspects:
Smooth 30 gloss, Smooth 90/100 gloss, Wrinkled opaque, PVDF /lumiflon
| | |
| --- | --- |
| Basic alloys | 1000 / 3000 / 5000 series |
| Thickness | Between 0. 20 a 3.00 mm |
| Width | Up to 1530 mm |
| Length | Coil or sheets up to 6000 mm |
| Coating | Unlimited range |
| Colours | Antigraffiti paints |
| Protective film | LDPE protection provided by UV-resistant |
| Fire reaction | Low flame spread (class A1(1)) |
| Workability | Very thick coating resistant to bending and deformation, no cracking at a bends radius from 1T to 2T (it depends on basic alloys used, physical state and aluminium thickness) |
| Impact resistance | No cracking at a maximum of 10 Nm |
| Flatness | Total Panel Quality (continuous stretching) in accordance with the EN 485-4 norm |
| Off-cuts recycling | 100% recycle |
| Appearance | Completely evenness of finish and colour |
(1) class A1 is the safest reaction class for building in Europe, in accordance with EN 13501-1 norm